Bible in English free
Are you seeking to have a deeper relationship with God? Do you want to apply the principles of the Word into your life?
Download our app that contains the whole text of the Holy Bible to read and listen every day on your phone.
When you are seeking inspiration or help through difficult situations in life, turning to the Bible for aid is something a lot of us do. With this app, you can easily and religiously read the Bible every night before going to bed or even during the day.
Reading every day your Bible helps you pray, meditate and use what you learn to improve your life experiences. This Bible app helps you connect on a deeper way with the word of God and can be really helpful for your spiritual life. There are also several other reasons for you to download "Bible in English free" such as:
IT'S FREE AND OFFLINE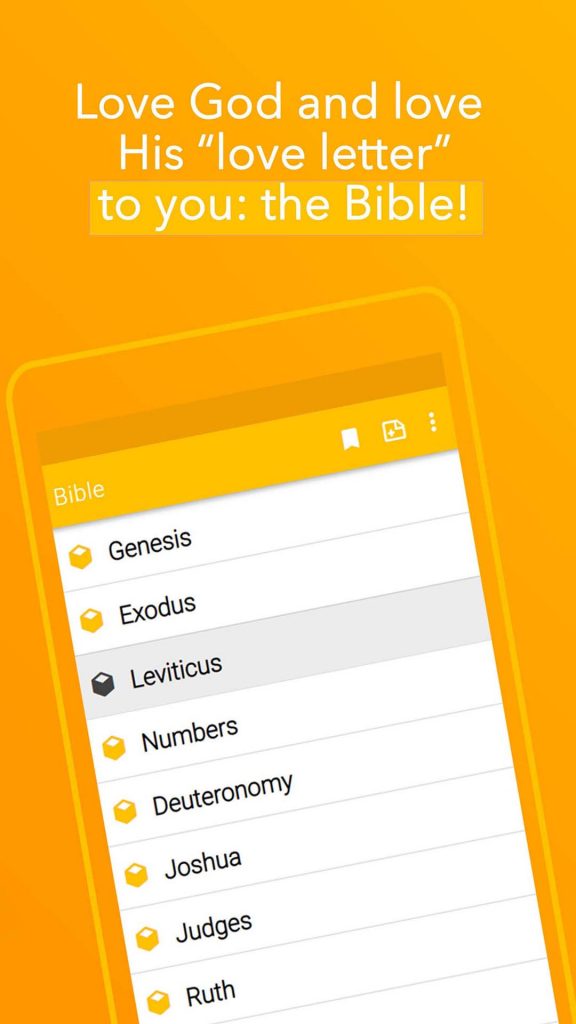 This online Bible app is free. You can read or listen to the Bible wherever you are. However, if you do not have an Internet connection, there is no need to worry, you can read or listen to your Bible offline.
AUDIO BIBLE
Listen to the Bible verses will bring joy to your heart and peace to your soul. If you can not read, you can listen with headphones.
HIGHLIGHT, SAVE VERSES AND TAKE DOWN NOTES
You can highlight and save verses that really speak to you and you can as well write down notes as you study the word.
Write down your thoughts and feelings whenever you felt inspired by something you have read. Writing down these notes helps reflect on them from time to time and apply it to your daily life.
Or maybe you want to make a list of favorites on your Bible app.
READ COMFORTABLY
Change the font size of the text and apply night mode when reading at night. It will ensure a more comfortable reading.
SHARE THE HOLY WORD WITH OTHERS
God's Word is meant to be shared. It is an honor to be able to share all the learnings that has been revealed to us in the Bible. Do not keep the good news to ourselves: share with your family and friends.
If you have a favorite Bible verse, send it by email or WhatsApp or post it on Facebook or Instagram.
RECEIVE THE VERSE OF THE DAY
Sign up to receive the daily Bible verse on your phone and be encouraged to face the troubles.
DOWNLOAD THE COMPLETE BIBLE CONTAINING 66 BOOKS
BOOKS OF THE OLD TESTAMENT:
Books of the Law (or Pentateuch): Genesis, Exodus, Leviticus, Numbers, Deuteronomy.
Historical Books: Joshua, Judges, Ruth, First Samuel, Second Samuel, First Kings, Second Kings, First Chronicles, Second Chronicles, Ezra, Nehemiah, Esther.
Poetry books (or The Writings): Job, Psalms, Proverbs, Ecclesiastes, Song of Solomon.
Books of the Prophets: Isaiah, Jeremiah, Lamentations, Ezekiel, Daniel, Hosea, Joel, Amos, Obadiah, Jonah, Micah, Nahum, Habakkuk, Zephaniah, Haggai, Zechariah, Malachi.
BOOKS OF THE NEW TESTAMENT:
The Gospels: Matthew, Mark, Luke, John.
Acts of the Apostles
The Epistles:
-Paul's Epistles: Romans, 1 Corinthians, 2 Corinthians, Galatians, Ephesians, Philippians, Colossians, 1 Thessalonians, 2 Thessalonians, 1 Timothy, 2 Timothy, Titus, Philemon, Hebrews.
-General Epistles: James, 1 Peter, 2 Peter, 1 John, 2 John, 3 John, Jude.
-The book of the end: Revelation
https://play.google.com/console/u/0/developers/5268915657501161754/app/4974903395653855791/main-store-listing
Are you seeking to have a deeper relationship with God? Do you want to apply the principles of the Word into your life? Download our app that contains the whole text of the Holy Bible to read and listen every day on your phone. When you are seeking inspiration or help through difficult situations in…